Overview
We're Going Organic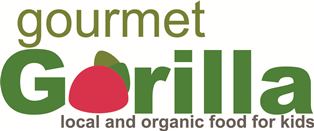 Our recent parent survey indicated a change in the quality of food was needed and we are happy to announce starting in August, Concordia Place is going organic!
Gourmet Gorilla, a local and organic food company, will be providing meals to children at both Concordia Place locations. Gourmet Gorilla obtains 100% of its produce from local sustainable & certified organic purveyors, their meats are free range along with being hormone and anti-biotic free, they have a strict Non GMO policy, and they operate out of a tree nut free facility.
This is why it is important to us to make the change:
"You have no idea how happy and relieved we feel, knowing that our kiddos will be getting only organic foods for lunch. We appreciate so very much your work and commitment to making this a reality for the kids (just one more reason to LOVE Concordia Place)!" - A Parent of a Concordia Place Child
---
What's happening at each of our sites
We know that drop-off and pick-up times can be rather busy. To make things easy for you we have posted information that our families can use. You'll find the menus for the month, event updates, and special information. Check back often to see what's new.
MENUS

NEWSLETTERS

Kidding Around

Concordia Place Matters - Summer/Fall 2014

CALENDARS
Have You Moved or Changed Your Email Address?
Please inform the receptionist at school when you move or change email addresses. We want to stay connected with you!
Testimonials
"I remember feeling a buzz. A buzz of family, friends and educators. It was wonderful. As a young parent, I value educators/administrators that respect me and care to understand my family and our financial situation. By offering a sliding tuition scale I knew that Concordia's mission was to support families as part of supporting their community, this was not just a business. "
– Mother of a Preschooler

"From the moment I walked in the door at the Seeley Center, I knew it was something special. I felt welcomed instantly. More than just a daycare, this was a community. " - Mother of a preschooler

"I desperately wanted to find something that would fulfill my daughter's need for contact with other children. It wasn't until a space opened up in the preschool program at Concordia Place that we realized our lives would all start coming together…Any worries I had about her ability to acclimate to a childcare environment were washed away when I picked her up on her first day; she looked up at me and said, 'Mommy, I don't want to go home. I want to live here. You can bring my stuff over'." - Mother of a preschooler
We have a YELP Page!
Would you like to review Concordia Place? Click below to place a review on our YELP page.
Bulletin Board
Parents receive a daily note stating whether your child ate lunch, slept during nap, and what was discussed at group time. In addition, we put individual communications about your child in your child's mail slot or cubby.
Check the Parent Bulletin Board at your center. It contains articles, messages, and other information relevant to parents. We publish a monthly newsletter for each site. We post copies on this website.
Our staff is always happy to meet with parents. Please speak to your child's teacher or the Program Director if you have a question or concern. As a partner in serving your children, we ask parents to: read and answer all correspondence from school, attend individual and group meetings, participate in fundraising activities, and participate in the Parent Club
Communications
Parent participation is an integral part of our children's programs and a valued aspect of our effectiveness and quality. Parents are welcome to come and spend time at the program. You are welcome to come on field trip days or participate in our other activities. Adult visitors and volunteers can share in the children's work and play.
We conduct a yearly Program Evaluation to solicit parent input and include parents in our program improvement efforts. Once the evaluations are complete and compiled, we provide parents a summary of the findings.